Home Inspections
Moneyzine Editor
Last updated 4th Oct 2022
Before buying a home, it's always a good idea to have it inspected by a professional. In fact, if planning to borrow money to help pay for this home, it is very likely the mortgage company, or lender, will require a home inspection. Inspectors can often uncover existing problems with a home that are not immediately apparent to a potential buyer. In addition, most offers made by buyers on a home are usually subject to change based on the information contained in the inspector's report.
Finding a Good Home Inspector
Additional Resources
When working with a real estate agent, they will very often try to help find a professional home inspector. Keep in mind that unless the potential homeowner is working with a
buyer's agent
, the real estate agent has a fiduciary responsibility to the seller of the home. After all, the seller is paying the real estate agent's fees. Even if it seems like the agent is a new best friend, that same individual has a responsibility to the homeowner, and has a monetary stake in selling the home. Their choice of inspectors might not be in the buyer's best interest. Fortunately, it is not very difficult to find a qualified home inspector. That's because most states regulate home inspections to some degree, and require the individual to carry certain professional accreditations. The two most common of these is the American Society of Home Inspectors, and the National Association of Home Inspectors.
American Society of Home Inspectors
The
American Society of Home Inspectors
, or ASHI, was founded back in 1976. ASHI is recognized as North America's oldest and largest society of home inspectors. ASHI membership includes over 5,000 inspectors located throughout the United States and Canada. To qualify for full ASHI membership, the inspector must pass the National Home Inspector Examination, and ASHI's own Standards and Ethics examination.
National Association of Home Inspectors
The
National Association of Home Inspectors
, or NAHI, was established in 1987. It is a nonprofit association that helps promote, and develop, the home inspection industry. NAHI claims to have over 2,000 members in the United States and Canada. Regardless of their affiliation, make sure the inspector is qualified to perform inspections in the state where the home is located.
Inspection Examinations
The National Home Inspector Examination is a test consisting of 200 questions that are broken down into sections such as:
Structural: foundations, flooring, walls, ceilings, roofs
Exterior: vegetation, grading, drainage, driveways, patios, walkways, decks, steps, railings, soffits
Roofing: drainage, covering, flashing, skylights
Plumbing: water supply, fixtures, faucets, drains, waste, vents, water heating, sumps, piping
Heating: heating systems, distribution systems, venting
Cooling: cooling systems, distribution systems
Electrical: service drops, meters, grounding, service panels, sub panels, wiring, fixtures, receptacles
Insulation / Ventilation: thermal insulation, vapor barriers, ventilation of attic and crawl spaces
It's important to understand the components of the inspection examination because these same items are likely to appear on the inspector's report. The above list is a pretty good guide for home buyers if they're trying to figure out what is considered a thorough inspection.
Hiring an Inspector
If at all possible, try to work closely with the home inspector. Generally, they will use tools such as ladders, testing devices, and binoculars to look for clues the home has a problem. They will be turning on faucets, testing electrical outlets, flushing toilets, and taking notes.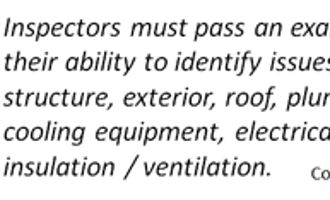 They have a limited amount of time to figure out if something's wrong with the home, which means they should be putting the home through many different types of tests. They'll be turning on the air conditioning as well as the heating system. They'll want to see if the stove works, as well as other appliances. Stay close, ask questions, but try to stay out of their way. It's actually a good idea to stay close to the inspector for several reasons. For example, if they know someone is watching them, they're liable to be more careful during the inspection. In addition, they will want to be asked to come back and help with a
final walk through inspection
. Watching the professional and asking questions, can also help buyers to conduct this inspection on their own later on.
Inspection Costs
The cost of a home inspection will vary by geographic location and size of the home. Larger homes take more time to examine, and therefore will cost more to inspect. Most sources quote typical home inspection costs from $400 to $900. This might sound expensive, but think of it this way. If someone's willing to spend $300,000 on a new home, then spending $700 to figure out if it's in need of an expensive repair is a good investment.
Home Inspector Reports
Most sellers and buyers of homes usually want to understand if the offer is going to stand on a home, if the inspection is likely to cancel the deal, or if it's time to start a new round of
negotiations with the seller
. Because of this urgency, the home inspector's report is usually completed within one or two working days of the inspection itself.
Negotiating with Inspection Reports
While most sellers like to think that a home is being sold "as is," it's really not that simple. Home inspectors can often uncover expensive problems with the home; problems the buyer may not have considered when making their offer on the home, or the seller might not have known when pricing the home. It's natural that these kinds of reports can open up a new round of negotiating with the homeowner. On the other hand, if the home is not new, it is reasonable to assume the inspector will find some problems with the home that are also visually apparent. For example, maybe the driveway is crumbling and needs repair. This type of defect was likely observed by the buyer and factored into the offering price for the home. However, the inspector may have uncovered a significant problem with the home that was not immediately apparent to the buyer. In this case, the buyer might choose to walk away from the home, have the home's owner make the repair, or share in the cost of the repair. There are many variations of this theme, but one in particular that all buyers need to be aware of.
Home Repairs Following the Inspection
Buyers should NEVER directly pay for a repair to someone else's home. Until they've gone through a
closing on the home
, it is the buyer's money paying for a repair to the seller's home. If the deal were to fall through (and they do for many reasons), it may be very difficult to make the owner pay back this money. Finally, the homeowner really needs to address all of the findings on the inspector's report before moving on with the purchase. Make sure to obtain all responses in writing, including when the repairs will be completed and receipts where appropriate. Once they've all been completed, make sure the work has been done satisfactorily, even if that means paying the inspector to return to the home to check the repairs.
---
About the Author - Home Inspections
---