Home Builder Incentives
Moneyzine Editor
Last updated 29th Nov 2022
If the forces of supply and demand are heating up the local real estate market, buyers can't expect sellers to offer much in the way of incentives. But if the market has been cooling off, or homes are not selling quickly, sellers and builders alike will offer what are seemingly generous incentives.
With lack-luster real estate markets in many parts of the country, home builders, as well as real estate agents, are resorting to new extremes when it comes to offering home buyers both deep price cuts, and an abundant array of incentives.
Additional Resources
In this article, we're going to explain how market forces determine the lengths builders will go to offer these inducements. We're also going to cover some of the more common and extreme offerings that might be seen when a real estate market slows down.
Buyers and Sellers of Homes
Most real estate markets are fairly efficient. That means they normally follow the economic forces of supply and demand. When there are more buyers than sellers of homes, the real estate market is said to be "hot" because homes will sell quickly. But when supply outstrips demand, then builders might find themselves with a large supply of unsold homes, which can create cash flow problems for these companies.
Builders and developers make money by selling homes, not just building them. If their inventory gets too large, it will tie up money they need to pay their bills. That means they have a lot of incentive to either lower the price of the homes they're selling, or throw in special features to entice buyers to grab some of their inventory.
Builder Incentives
We're going to talk about some of the incentives that could be found back in 2007, when the housing market was struggling, and builders started to find themselves with many unsold homes. While actual experience will vary, these examples provide buyers with a good feel for what a builder can offer if they really want to sell a home. The following examples were found in Pennsylvania, Virginia, Texas, California, Nevada and Florida.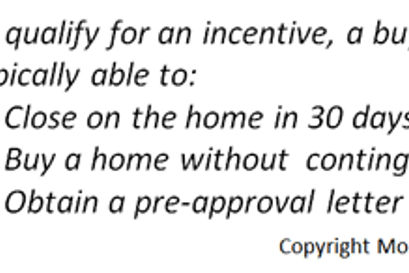 Mortgage Payments: builders will offer to pay up to four mortgage payments on behalf of the home's owner.
Closing Costs: one common sweetener used by all sellers (real estate agents, homeowners as well as builders) is to offer to pay all, or a share, of the closing costs on a home. Typical costs are in the range of $5,000 to $20,000.
Property Taxes: builders are often willing to pay the property taxes on a home after it's sold. This kind of inducement is usually in the range of six to twelve months of taxes.
Insurance Payments: as is the case with taxes, sellers may be willing to pre-pay a homeowners insurance policy for up to one year. If the builder provides this option, make sure the policy's deductibles are reasonable, or buyers could find themselves paying a large deductible if the home is damaged.
"Free" Upgrades: premium upgrades can include granite countertops, swimming pools, hot tubs, finished basements, and appliances. When offering upgrades on a home, a builder has a lot of latitude since their cost can be considerably lower than the average homeowner's.
Cash Discounts / Lower Prices: as a last resort, a builder might sell a home at a discount, but this practice is usually frowned upon by other homeowners in the same development that have paid a premium price. Selling a home at a discount, sometimes as much as 20%, effectively establishes a new "ceiling" price for homes in that area.
Bad Deals
Keep in mind that what seems like an incentive on the surface might actually be a shuffling of price by the builder. For example, a builder might "overstate" the value of an upgrade or simply increase the home's price before offering a "free" upgrade. Whenever evaluating an offer, be sure to find out what other deals home buyers in a particular development were offered when they purchased their homes.
Qualifying for Incentives
In a slow real estate market, an agent or builder might want to, or need to, increase their cash flow in the short term. This means they are looking for buyers that meet certain conditions or qualifications. Anyone looking to take advantage of an incentive needs to be prepared to be decisive and move quickly. To qualify for an incentive, a buyer typically is able to:
Close on the home in 30 days or less.
Sign a contract to buy a home without any contingencies. For example, the purchase of a home must not be contingent upon the sale of a home the buyer already owns.
Finally, builders are looking for buyers that are pre-qualified or have already obtained pre-approval letters of financing.
Individuals looking for a great deal on a home will be in a much better position to negotiate with a builder if they're ready to make a move.
---
About the Author - Home Builder Incentives
---