First Time Home Buyer: Prequalifying
Moneyzine Editor
Last updated 29th Nov 2022
In the first three articles in this series, we explained how to calculate an affordable mortgage, choose a home's location, and how to work effectively with a real estate agent. In this final article, we're going to talk about pre-qualifying for a mortgage, and what to look for when trying to evaluate a home's potential value.
Pre-Approval or Pre-Qualifying for a Mortgage
The most effective way for a buyer to demonstrate they're serious about buying a home is to pre-qualify for a mortgage. This is the process of supplying information to a lending institution so they can figure out how much money the applicant may be able to borrow.
Additional Resources
That last point is important. When pre-approved for a loan, the lender is doing some preliminary guesswork as to what someone might be able to borrow. The lender will usually state in a letter what they think the applicant should be able to borrow, but there are no guarantees.
This means the applicant can still be turned down for a mortgage; but when someone has a prequalification letter, everyone should be more comfortable there is a very good chance of getting a loan. The actual mortgage application process is much more thorough, and only then is the financial institution willing to commit to an exact amount to loan the borrower.
Evaluating a Home's Potential
Many homes are sold in "move in" condition. These homes have been maintained well by the owner, and the interior has been kept up-to-date. Bathrooms are modern, the kitchen and appliances are of a newer style, and the home needs only new wallpaper or a fresh coat of paint to match the new owner's tastes.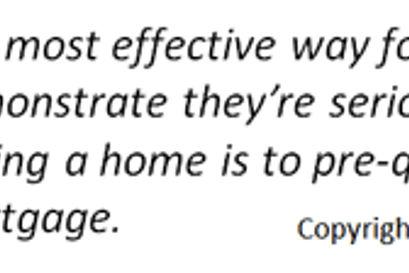 On the other hand, there are many homes that have not been updated for a variety of reasons, and they need an injection of serious money to bring them up to modern standards. Sometimes these homes are quaintly labeled by real estate agents as a "fixer-upper." The problem is most first time home buyers have no idea how much money home repairs can cost.
Cosmetic Problems in Homes
Cosmetic problems are the least costly to repair, and can sometimes be renovated by the home buyers themselves if they are handy. Typical cosmetic problems include old carpeting, out-of-date paint on the walls, peeling wallpaper, and hardwood floors in need of refinishing. Cosmetic problems tend to be on the surface and do not require ripping the home apart to repair. Depending on the size of the home and how much sweat equity the new owner is willing to provide, cosmetic repairs will range from $500 for paint and supplies through $10,000 if the floors need repair or carpeting needs replacement.
Structural Problems in Homes
Unless the buyer is a carpenter, electrician, or plumber, most structural problems are costly to repair. These problems will involve what is termed the infrastructure of the home; things that hold it together or provide essential services. These problems may require tearing down walls or ripping up floors.
Be suspicious if a homeowner has just painted a ceiling that is below a bathroom, because this type of repair could indicate leaking plumbing above the ceiling. Take a look at the electrical panel. Is it a modern design with circuit breakers, or does it have fuses? Does the bathroom need a fresh coat of paint or do all the fixtures and tiles need to be replaced? Look for tilted floors, cracked walls, and broken foundations that might indicate the home is shifting or settling.
Turn on faucets and flush the toilets to see how the water drains and to gauge water pressure. Look at the water itself or for rings in the sink and bathtub that might indicate rusty pipes, which means the home may have older iron plumbing or a problem with the service line from the street. When looking at a potential new home, don't be afraid to "kick the tires" a bit.
Ask questions, a lot of questions. The real estate agent is obligated to tell a buyer about major structural problems with the home, pay attention if they state something in passing like it is not a big deal; it could be. Take a closer look or ask an expert to take a look at the home. Ask about the roof, the plumbing, the electrical system, septic tanks, propane or fuel oil tanks, and well water if the home has this feature.
Estimating Home Repairs
Even if an offer has been made on a home, find someone that can help figure out what the repairs might cost. A knowledgeable relative, or a nearby general contractor, should be able to ballpark the costs to bring the home up to modern standards.
Structural problems can cost in the tens of thousands of dollars to repair. General contractors will be more than happy to ballpark repairs for a buyer. Don't be embarrassed to ask for help, a mistake at this point could be a costly one.
Buyers are required by their lenders to get a home inspection before finalizing an offer. This inspector will look for termite damage and other hidden problems. Take their report seriously, and ask a lot of questions.
Buying a home is a big decision, and it is usually the largest single purchase people make in their lives. Don't ever be embarrassed to ask questions, or seek out the help of a trusted friend or family member.
---
About the Author - First Time Home Buyer: Prequalifying
---