Buying a Manufactured Home
Moneyzine Editor
Last updated 29th Nov 2022
The prefabricated home market is large. To put things in perspective, new home sales reached just over $9 billion in 2019. With that many manufactured homes being sold each year, it's quickly becoming an important and significant market for both new and used homes.
In this article, we're going to outline some tips to follow when buying a manufactured home. This includes information on warranties, building standards, as well as site selection and preparation.
Manufactured and Prefabricated Homes
Additional Resources
We're going to start by explaining how to identify a higher quality home, as well as some of the home buying considerations that might be unique to the manufactured home market.
We're also going to cover a complete range of home-buying options. That is to say, they will address both the used and new home market. This guide can be used as a mental checklist whenever evaluating a prospective new or used home.
Federal Standards and Manufacturer Warranties
Buying a home is one of the biggest investments many individuals will ever make, so it's important to minimize the possibility of making a mistake. The first line of defense against a "defective" home is a good understanding of the federal building standards that apply, and the manufacturer's warranty.
Federal Standards for Manufactured Homes
The quick rise of the mobile home industry resulted in a competitive market and cost cutting measures that, at times, compromised the safety and integrity of prefabricated homes. Recognizing the need for quality standards in this market, the U.S. Department of Housing and Urban Development, or HUD, developed a set of standards that applied to the construction of manufactured homes.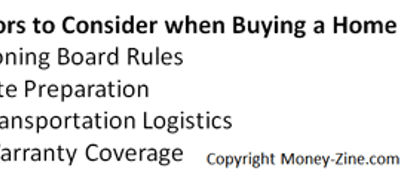 Generally, these initial codes addressed workplace rules such as construction standards and safety. In 1994, the HUD code was updated to include higher standards for thermal insulation and wind resistance. Today's regulations also include design and construction, strength and durability, transportability, fire resistance, as well as energy efficiency.
Manufacturer's Warranties
Warranties offered by top manufacturers will vary. Generally, buyers can expect them to cover defects in workmanship, plumbing, electrical, and heating systems they've installed as well as any appliance included at the time of purchase. Manufacturers will not pay for problems that stem from accidents, lack of maintenance, or unauthorized repairs.
When comparing warranties from several manufacturers, some of the factors to consider include:
Length of warranty
Suppliers of warranties (manufacturer, transporter, installer, appliances)
Items covered
Process for gaining a warranty repair
When dealing with a seller, make sure to get the warranty information in writing, especially if there is a verbal promise that does not appear in the standard written materials. Many times used homes are sold "as is." In some states buyers might still be covered by an "implied warranty." This means the seller sold a home and the expectation, or implied warranty, is that the home was suitable to live in.
When dealing with a seller that is marketing a home "as is," check with the local consumer protection office to see if a limited "implied" warranty applies.
Site Selection for Manufactured Homes
When buying a new home, it's important to select a site before the home is purchased or manufactured. When buying a used home, it is very likely the home already conforms to existing zoning requirements.
For new homes, buyers typically have a choice of leasing property from a manufactured home developer or purchasing land. When working through a manufactured home developer, they will usually address all of the requirements of the site. When thinking about buying land, there is a lot more work to do.
Local Zoning Boards
In many urban and suburban areas, there are zoning requirements established by local zoning boards. These requirements apply to additions to existing structures and new homes. It's possible a township has restrictions on prefabricated homes that apply to its exterior appearance and / or size. Buyers will need to contact the local zoning board to see if there are any restrictions that apply to new homes in general, and to manufactured homes specifically.
Buyers will also need to work with local officials and utilities to determine their process for supplying those essential services to the home. This would include electrical connections, natural gas lines (depending on appliance and heating systems), drinking water, sewerage connections, telephone, and cable television.
Site Preparation and Transportation
Prefabricated homes present buyers with special considerations since there is extensive site preparation work, and possible transportation of the home itself. When working with a manufactured home retailer, they should be able to supply these services or help to find a local contractor that specializes in this area.
Before purchasing any land, make sure the installer and transporter have approved the site for installation. The move involves a very large object, and with that will come challenges; the most important of which is accessibility. That means the transporter must agree they can get the home to the property, and the installer must agree they can properly prepare the site for installation.
Site Preparation
Once again, the manufactured home retailer should have a checklist to make sure the land is one that everyone agrees is an appropriate site for a new home. Also keep in mind the logical sequence of events should be finding a suitable piece of land before committing to purchasing a home.
The last thing a buyer wants is a home that is ready to be delivered, and they haven't found a location that will accommodate the installation. This means working with the home retailer, while at the same time looking for a suitable property.
The installer will need to prepare the property to receive the home. This includes building a foundation to support the home and anchor it to the ground. Depending on the home selected, the site's characteristics, and budget, a foundation might be a "slab" or include a basement. The installer should also ensure that rainwater drains away from the home.
Make sure to review the roles and responsibilities of site preparation. After committing to spending a large amount of money on a new home, buyers don't want to be confronted with the expense of cutting down trees they thought the installer would remove.
Transporting a Manufactured Home
Transporting a manufactured home often occurs in two stages. First, the home is transported from the manufacturer's factory to the retailer. Once there, it will be checked for damage that may have occurred during this first move.
Next, the home is transported to the site so that it can be installed. Damage to the home that occurs at this stage is the responsibility of the transporter. Make sure the written warranty from the transporter covers any damage to the home that occurs during this phase of the move.
Installing a Manufactured Home
All prefabricated home manufacturers supply written instructions on installing the home. Leveling the home, and anchoring it to the foundation, is performed by the installation crew. All new homes are subject to settling and shifting. It is important to make sure the home stays level, especially during the first year after installation.
Check with the installer or retailer if a shift in foundation results in an unleveled home. Walls will eventually crack, and damage to the home will occur if leveling becomes a problem.
Finally, it's important to understand the installation company's role in connecting all utilities; especially electricity, water, sewage and natural gas / propane. And that brings us to our last tip.
Hidden Costs
It's important to work with the retailer to understand all financial obligations. That means understanding what is included in the price of the manufactured home, as well as what's not included. For example, does the retailer offer a bundled "turn-key" price that includes transportation, inspections, and installation? Or is the buyer responsible for negotiating with contractors?
Don't forget to ask the retailer for a written estimate of all costs associated with transportation and installation of the home. Buying a home is a big expense. A reputable retailer should have no problem providing buyers, in writing, all the "promises" made during negotiations.
---
About the Author - Buying a Manufactured Home
---