Finding a Job after College
Moneyzine Editor
Last updated 29th Nov 2022
Like clockwork, college students are faced with the same challenge after graduation: finding a job. In this article, we've compiled a list of ten steps that should help a college student find a job as efficiently as possible. This list is based on real-world experience placing individuals in both internships as well as college students gaining entry level positions; including reading through hundreds of resumes and cover letters. Unfortunately, companies typically cut back on jobs during tough economic times. This can mean a considerable delay in finding employment.
Additional Resources
The good news is that a college diploma translates into a higher paying job. According to statistics published by the U.S. Bureau of Labor Statistics in September 2020, individuals without a high school diploma earned an average of $43,841 per year, while individuals with a college diploma earned around $75,903. A college graduate has nearly twice the earning potential of a high school dropout.
Resumes and Cover Letters
The very first step every student should take is preparing a cover letter and resume. While it may be desirable later on to tailor the resume to specific job openings, there needs to be a starting point. Based on real world experience, this is one place many students fail. Resumes are often poorly written and contain very limited information. These failures create a significant opportunity for graduates that follow the advice below.
Functional Resume Format
Most college students should prepare a
functional resume
. This style deemphasizes work history and can highlight coursework and skills possessed. Keep in mind that even unrelated work experience is useful since it can demonstrate responsibility, discipline, and the ability to work with others. For an in-depth review, including examples, read our article dedicated to this topic:
Resumes for College Students
.
Cover Letters
A well written cover letter oftentimes provides the motivation for a hiring manager to review the accompanying resume. In our article,
How to Write a Cover Letter
, we've outlined a step-by-step process to writing effective letters. We've also included an example specific to college students in our article:
Free Cover Letter Templates
.
Interviewing Skills
As is the case with writing a resume and cover letter, learning how to effectively interview for a job takes practice. The resources below are essential reading on what is a surprisingly complex topic:
We've also compiled two databases of questions, one that focuses on those encountered during a
behavioral interview
, while a second contains a list of
commonly asked questions
.
Career Centers at School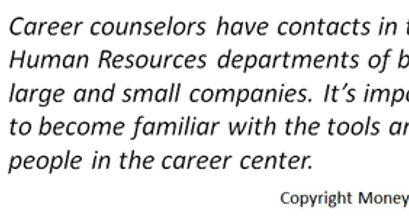 Many students don't take advantage of one of the single most important resources available to them: their college or university's career center. The human resources departments of large companies work directly with these centers, looking to place recent graduates. This demonstrates good corporate citizenship in addition to creating a pipeline of new talent. Schools build their reputation by demonstrating the ability to place graduates in jobs. Don't ignore the help this important resource can offer.
Job Fairs
Also referred to as a
career fair
or exposition (expo), these events offer the opportunity to meet with prospective employers. They're typically organized like trade shows; arranged in a way such that potential job candidates can speak with a large number of "sponsors." Once again, graduating students are oftentimes exposed to job fairs for the first time through their college or university career center. The premier online source of information is the
Department of Labor's website
, which has links to agencies for all 50 states.
Networking
Studies have shown that over 60% of individuals found their new jobs via
networking
. This activity involves contacting friends, relatives, as well as neighbors. Online communities such as LinkedIn are a great way to quickly get started creating a network. In addition, websites such as
CareerOneStop
provides links to networking opportunities in all 50 states.
Cleaning Up Profiles
While Facebook may seem a logical place to build a local network, be careful with this approach. When placing employees, it is very common for recruiters to search online forums and Facebook, looking for insights into a potential job candidate's attitudes and behaviors. All online profiles should project the right image, and not embarrass the job candidate. If that's not true, a cleanup is in order.
Volunteering and Internships
It's not always possible to find a job right out of school, and that's where volunteering and internships come into play. Not only is volunteering a feel-good activity, it also allows a college graduate to gain some valuable experience while expanding their network. Websites such as
VolunteerMatch
and the
National & Community Service
contains a searchable database of volunteer jobs located throughout America. Internships provide a great opportunity for both the employer and intern to gain valuable insights into the graduate's skills as well as the fit with the company's corporate culture. Internships.com provides a searchable database containing tens of thousands of opportunities.
Remain Flexible
When looking for a job, it's important to keep an open mind. That means being flexible when it comes to working at a company or in a position that doesn't seem appealing on the surface. It's very common for companies to move employees around. Accepting a job doesn't lock someone into that career path forever; but getting a foot in the door can open up other opportunities. Websites like AfterCollege.com provide insights into both the types of positions college graduates are accepting as well as internships.
---
About the Author - Finding a Job after College
---