Career and Job Fairs
Moneyzine Editor
Last updated 29th Nov 2022
One of the challenges job hunters face is finding companies actively seeking to place new employees in their organizations. Job fairs allow the unemployed, or individuals looking to switch employers, to gain exposure to a large number of companies in a relatively compressed timeframe. In this article, we're going to cover the topic of job fairs. As part of that discussion, we'll provide a brief explanation of the process, how
job hunters
can benefit from participating, and what to expect when arriving at the event. Next, we'll talk about preparing for the meeting, including the items to bring and the research to conduct before attending. Finally, we'll explain how to go about finding a career fair.
Job Fairs
Additional Resources
Also referred to as a career fair or exposition (expo), these events offer the opportunity to meet with prospective employers and
professional recruiters
. Career expos are typically organized like trade shows. Booths are arranged in a way that potential job candidates can speak with a large number of "sponsors," where resumes and business cards are exchanged. Oftentimes, graduating students are exposed to job fairs for the first time through their college or university Career Center. They can also be sponsored by local networks of employers and state employment agencies.
Benefits
The biggest benefit gained by attending a job fair is physically meeting with representatives of the hiring company. Even if a
resume
and
cover letter
are well-written, they could never convey the personality of the applicant. Attending a fair also sends the signal that you're serious about
finding a job
by taking the initiative to meet with the hiring company.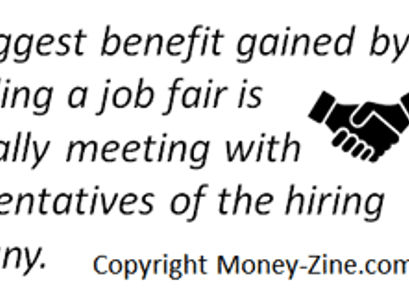 It's also a lot easier for a
hiring manager
to look at a resume and decide the candidate is not worthy of an interview. The personal nature of this meeting place makes saying "no" much more difficult for companies. Oftentimes,
job interviews
will be scheduled during, or immediately after, the job fair. Another benefit of attending is the opportunity to network not only with the people responsible for recruiting new hires, but also the other candidates. For a variety of reasons, the same individuals looking for a job could have a good lead on an opening that fits well with your background and experiences.
Preparing
Before the meeting, try to obtain a list of the employers that will be attending the expo. A lot of information is going to be exchanged in a relatively short amount of time. It's important to be as efficient as possible, talking to employers that may have job openings better suited to your skills. Also be prepared for an "unexpected" opportunity. The following checklist should be reviewed well ahead of the event's date:
Preregister: job fairs typically require attendees to register before the event. Always attempt to register well ahead of the meeting date, and obtain a list of employers attending the meeting.
Research: evaluate the list of potential employers and determine which companies to target during the day. Candidates that know the "basics" about a company (size, locations, industry, products offered) demonstrate both" interest" as well as initiative. These are desirable attributes of a future employee.
Prioritize: establish a prioritized list of potential employers. Plan the day out before the event, leaving time at the end of the day to double-back with top prospects.
Practice: prepare for an on-the-spot job interview. Review and practice responses to behavioral interview questions. Preparing a 100 to 150 word elevator speech will help encourage more in-depth conversations.
Assemble: pull together the materials to bring to the meeting. This includes notepads, pens, pencils, resumes (10 to 15 copies at a minimum), and work samples. Place the paper materials in a folder or portfolio so they don't get creased or crumpled.
In addition to being primed for an interview, be prepared to
fill out a job application
. Many times, the information needed on the application can be found on a resume, but the application may also require some forms of identification too. Making a good first impression is important to landing a job. When pre-registering, determine the dress code for attendees. When in doubt, it's better to wear a business suit, and be too formal, than to dress too casually.
Post-Meeting Follow-up
After the meeting, it's a good idea to do some follow up work. Now that the hiring managers know who you are, it's time to demonstrate to those employers an interest in their job openings. You'll be collecting business cards during the meeting, use that information to send thank you notes to the individuals met. This website has a good example of a
Job Interview Thank You
note, which can be used for this purpose too. Finally, take the time to assess what happened at the meeting. Think about the ways to improve your performance during the next fair. Write down ideas, so they can be reviewed before the next event.
Locating Job and Career Fairs
Most meetings look to match local talent with local businesses. This makes these events somewhat geographically constrained. Sponsoring agencies are typically at the county or district level. While it's possible to find a large number of websites offering career fair listings, most states will provide this same service through their Department of Labor or Department of Employment. Perhaps the premier source of information is the
Department of Labor's website
. They have links to agencies for all 50 states. In the case of graduating students, it's very likely that your college or university sponsors career days or fairs. While the information about the event will likely be found on the school's website, it's a better idea to speak to a career counselor. Speaking to someone ahead of the meeting will likely provide some insights that will increase the chance of a successful encounter.
---
About the Author - Career and Job Fairs
---