Infant and Child Car Seat Safety
Moneyzine Editor
Last updated 29th Nov 2022
Back in 2001, the federal government took a firm stand on car seat safety. Statistically, studies showed that 82% of the child safety seats deployed in cars were not installed and used correctly. That's why cars manufactured after September 2002 are required to have LATCH (Lower Anchors and Tethers for Children) installed; a system that makes attaching a child's safety seat easier.
LATCH Child Safety Systems
The LATCH safety system eliminates the need to use the car's seat belt to hold down the child's seat. It was designed to take the guesswork out of installation by standardizing the anchoring design. The one drawback to LATCH is the requirements apply to vehicles with a gross vehicle weight rating (GVWR) under 8,500 pounds, which might exclude some of the larger trucks and SUVs on the roadways today.
Additional Resources
Consumers can recognize a LATCH-compliant vehicle by looking for the metal anchors, which are usually located on the seat back or rear bulkheads (which hold the seat's upper tether). The lower anchor points located in the seat seams receive the metal LATCH connectors, which are built into the lower part of all new safety seats. Although LATCH was intended to make installation easier, the complex combinations of car seats and vehicles on the road make then confusing to install properly. Parents still need to take the time to open the car's owner manual to ensure the seat is connected properly.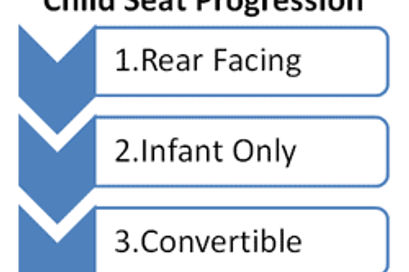 Parents that are not sure how to connect the seat, or want someone else to look at their installation, should check with their local police department. Most officers have been trained to assist parents in the correct installation of these seats.
Choosing Safety Seats
There are three general categories of child safety seats: rear facing, forward facing, and booster seats. The
American Academy of Pediatrics
(AAP) has a great deal of information on child seats and their installation. In the paragraphs below, we're going to provide a brief overview of each type of seat.
Rear-Facing Seats
A rear-facing seat is used for infants until they've reached the age of 1 and weigh at least 20 pounds. The important point to remember is the infant needs to meet both standards: age and weight. If the baby reaches 20 pounds before 1 year of age, they should remain in a rear-facing seat. There are two types of rear-facing seats found in stores, infant-only and convertible seats.
Infant-Only Seats
An infant-only car seat is designed to be small and portable. These seats can be used for infants up to around 22 pounds. They are sometimes sold as part of a baby stroller system and come with a detachable base, which stays connected to the car. Most of these devices also have some type of carrying handle. This type of seat will usually have a three or five point harness to hold the infant in place.
Convertible Seats
A convertible seat is a little bigger than the infant-only design, and are termed "convertible" because they can also be turned around to be a forward facing seat as the child gets older. Because of their size, they often have higher weight limits than infant-only seats. The flexibility of convertible seats does come at a cost. While they may work well for larger babies, they may present problems when securing smaller infants. That's why some convertible seats come with removable padding to help keep smaller babies from "flopping" over to one side.
Forward-Facing Seats
Once a child has reached at least 1 year of age and 20 pounds, they can ride in a car facing forward. While this may be more "comfortable" for parent and child, a rear facing seat generally offers more protection, and parents may want to keep the child rear facing until they reach the weight and or height limit of the seat. There are three categories of forward facing seats found in stores: convertible (already discussed), forward-facing, and combination booster / forward facing seats.
Booster Seats
Booster seats are the final stage in this series, and a child is ready for one when they've reached the upper limit of height or weight for their forward-facing seat. Until then, the harnesses found on forward-facing seats offer an added layer of protection. The purpose of a booster seat is to raise a child up, so that the lap / shoulder belt that comes with the car fits them properly. A proper fit is low across the thighs and back across the middle of the chest. Booster seats are sold with, and without, seat backs.
Child Protection Laws
State laws governing the use of car seats are confusing at best. Car dealers should be familiar with local laws, as will local law enforcement officials. Parents having their first baby need to make sure they understand the laws that apply before putting the infant in a car seat for the first time. When traveling out of state, car rental agencies should be able to help figure out what's required; in addition to supplying the right equipment. Penalties for unrestrained, or improperly restrained, children vary from state to state from stiff fines to warnings.
Child Seat Ratings
The National Highway Traffic Safety Administration has been publishing Ease of Use Ratings for child safety seats for over a decade. The good news is that assembly, labels, and instructions continue to improve for all types of child restraint systems. In 2020, there were nearly 300 different child restraint systems selected and tested from a variety of manufacturers. Based on the results of those tests, the NHTSA publishes ratings, which help educate parents about seat features and guide them through the process of finding the appropriate seat for their child. The ratings are published on a five-point scale, with five stars being the highest rating. Each type of seat receives ratings in labeling, instructions, installation, securing of the child, and overall ease of use. All car seats rated by the NHTSA meet Federal Safety Standards as well as strict crash performance standards. You can visit the
NHTSA website
for a complete listing of results.
---
About the Author - Infant and Child Car Seat Safety
---